Professional Tips & Advice
Bikini Waxing 101 with Midlands Region Trainer, Gemma Smalley
6 Min Read
Friday 27th May 2022
Bookings for bikini waxes reach an all-time high around about now, with summer holidays on the horizon meaning swimwear is out. For many clients, this Summer marks a return to travelling for a break, and, as a therapist, you can help ensure they're at their most confident with this effective, profitable holiday-prep treatment. Our guest expert and Sienna X Midlands Region Trainer, Gemma Smalley, is here to share her best kept bikini wax secrets ahead of peak season.
Gemma's top tip for performing a bikini wax
My most important tip is to make your client feel comfortable and relaxed, explain how you are going to perform the wax and what they can expect. Act confidently and chat throughout the treatment to ensure they are distracted from the actual hair removal.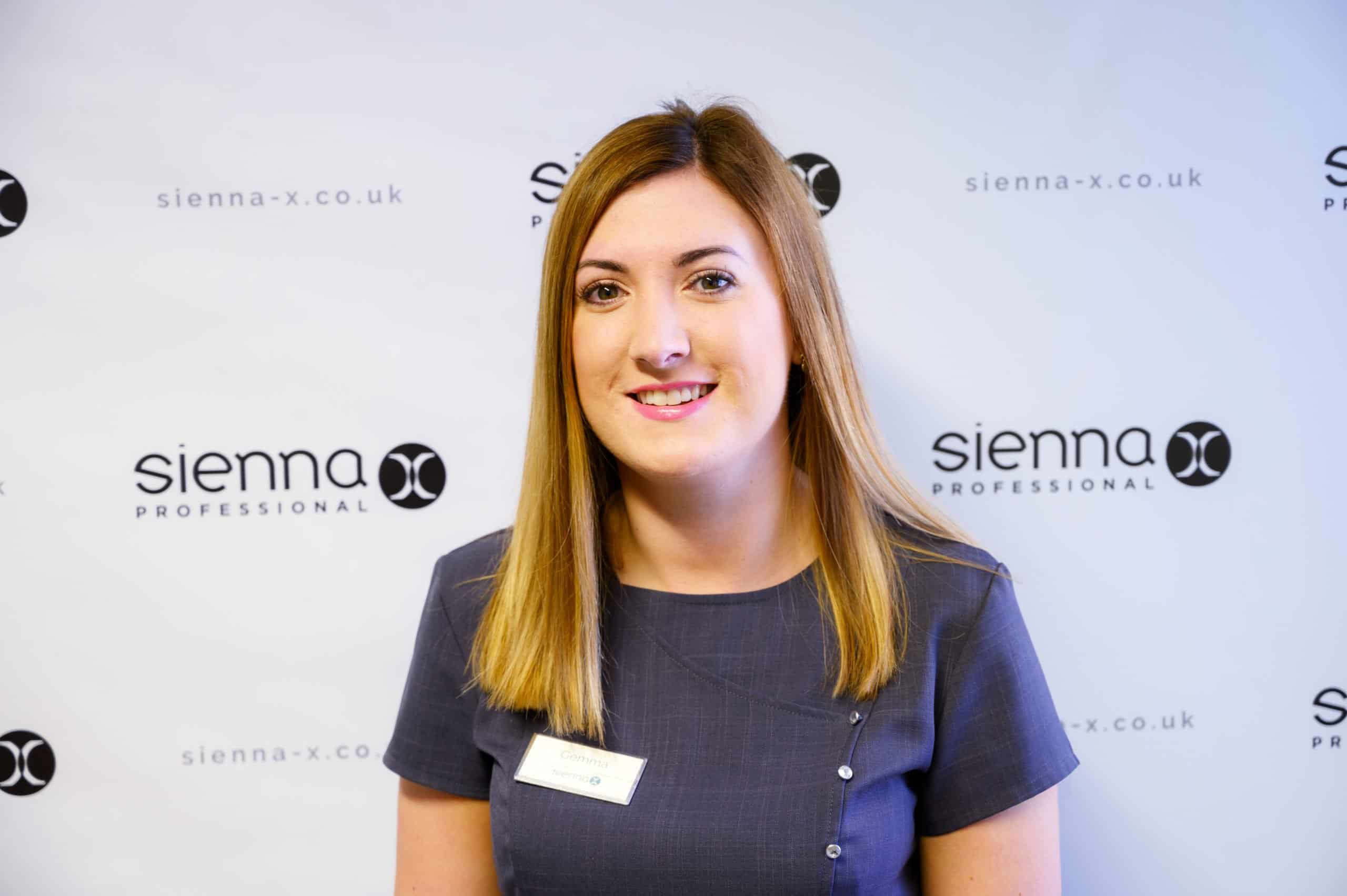 Must-have products
My absolute must have products for performing a fantastic bikini wax is Sienna X Pre and Post Soothing Oil – this product creates a barrier between the skin and the wax allowing a comfortable treatment (which is so important for intimate areas!) and can be used to soothe and moisturise the skin afterwards.
The Skin Guard 4-in-1 spray cools the skin before applying either hot or warm wax and in the mind of the client reduces pain, while also raising hairs that lie flat making them much easier to lift – especially great for first-time wax clients or on hot warm days. Alternatively, offer a cold flannel pre-treatment on feet and areas to be waxed. Wax can behave differently on hot days and when applied onto warm skin, so try to keep rooms cool.
Using an oil and a hot wax is the only way to wax underneath and in the more intimate areas safely and effectively. I wouldn't be without a hot wax for this treatment, and Sienna X Peppermint Creme Hot Wax is perfect as it's rosin-free and suitable for even the most sensitive skin types. Using a hot wax gives you so much confidence as you know it's much gentler on your clients skin and won't pull like some warm waxes can. A hot wax shrink wraps around the actual hair rather than pulls the skin and can remove even the shortest of hairs.
Nailing your menu
One of the most asked questions on bikini waxing is 'Äòhow much hair do I remove?'. It's important to be clear with your prices and your treatment menu so you and your client know exactly which wax to book in for and the cost of this.
An example treatment list would be:
A basic bikini wax – this is literally just the hair that grows outside your underwear lines so usually just each side and then a small amount from the very top.
A G-string wax or an extended bikini wax – this style of waxing would remove all the hair if your client was wearing a thong or string, only leaving the hair inside those lines.
Brazilian wax – all the hair removed from underneath and the clients bottom, just leaving a small strip at the very top – it's important to agree on how much hair your client wants left (or not as the case may be!) to ensure they leave happy and with the perfect result for them.
Hollywood wax – this type of waxing removes every single hair from the bikini area leaving your clients skin perfectly smooth and hair-free.
By making sure you and your client know exactly how much each service costs and how much hair removal it entails, you will be paid correctly and your client will receive the exact result they want. When deciding on your costs, the usual structure is the more hair removed, the more the cost to the client.
Troubleshooting issues
My hot wax won't come off ?
Make sure the patch of wax you have applied is cool and set ready for removal – if not wait slightly longer or add a cold pad. If this doesn't work, apply a little bit more wax to the edges to make sure you can lift and remove the wax. Keep the skin as taught as possible during removal.
Is my clients hair long enough to wax?
You will be surprised how sometimes even very short hairs can be removed with a good quality Sienna X wax and correct technique so don't worry too much . to try to prevent this from happening explain to your client upon booking to put the razor away and allow a least a few weeks of growth. To save time, you can hand them one of Sienna X's waxing leaflets that has all the pre- and post- advice, or have some advice pre typed to send via social media messages or email after your client has booked in.
How do I make my clients feel comfortable and reduce pain in treatment?
One of my top tips is to have a pile and cold, damp cotton wool pads to pop onto the hot wax to immediately take any¬†heat away and then to press firmly onto the skin immediately after the wax has been removed. This simple yet very effective method immediately takes the 'Äòsting' away from the skin and ensures a pain-free wax.
To make your client feel comfortable, quite simply ensure they are actually comfortable. Provide a pillow for their head, and bolster or rolled up towels under their legs and knees will make sure they aren't in any discomfort whilst lying with their legs bent for a prolonged period of time.
Tips for ensuring a repeat client
Explain the hair growth process and the importance of a regular wax. With strong hairs such as those found in the bikini area, it's best to be realistic and explain that some of the hair may grow back quite soon if it's their first wax, but each time they have the treatment done the hair will grow back finer and slower which is the aim of the treatment.
Please tell a first time client that the pain will NEVER be as bad the next time – as long as they keep away from the razor and continue with waxing, each time the treatment will become more and more pain free. Some of my long standing clients nearly fall asleep during their Hollywood's!
If you have made them feel comfortable and built up a relationship you will get a regular client – as therapists know, some clients will actually become friends.