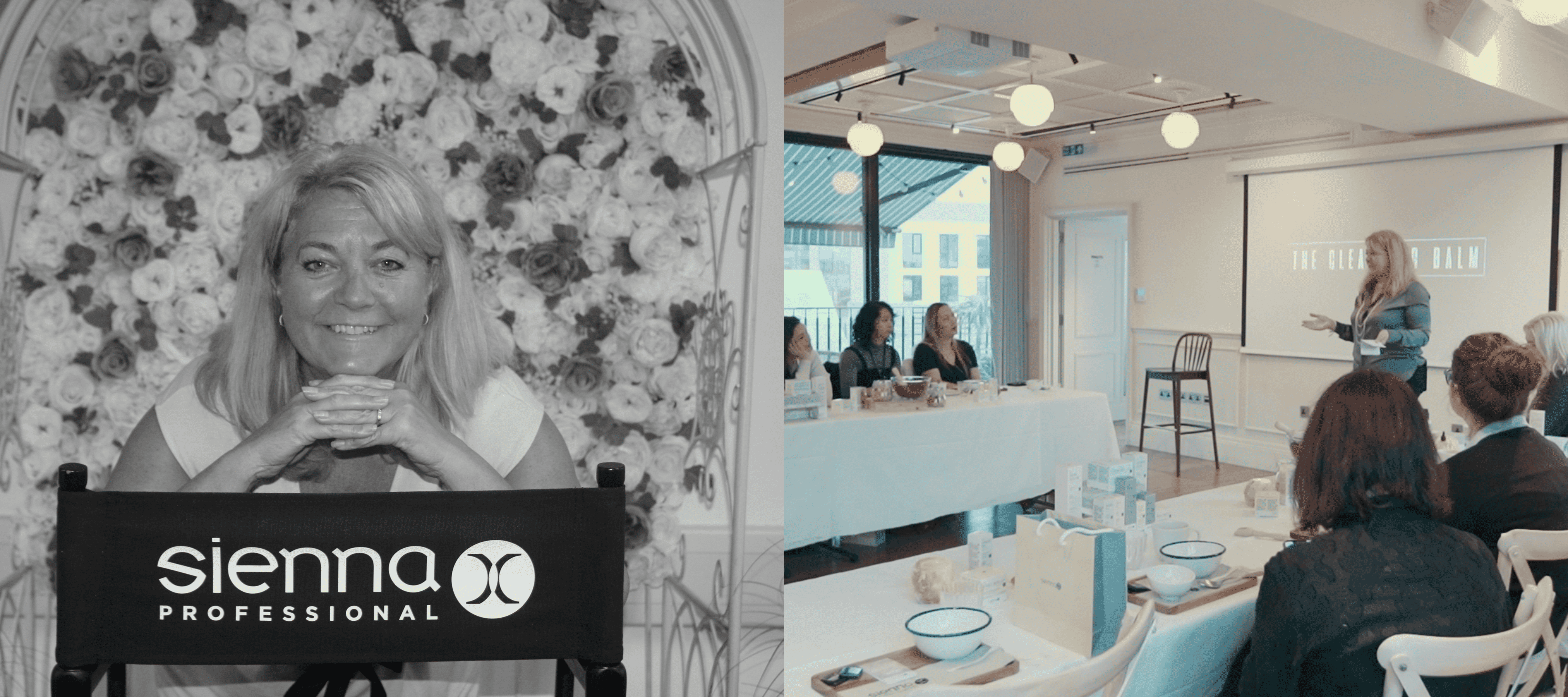 Nicola Matthews
Since establishing Sienna X in 2004, Nicola Matthews has brilliantly transformed the tanning industry. Her innovative journey, from pioneering spray tanning to delivering comprehensive training and diverse retail products across 4 treatments, has solidified her status as one of the UKs leading experts in the beauty industry.
---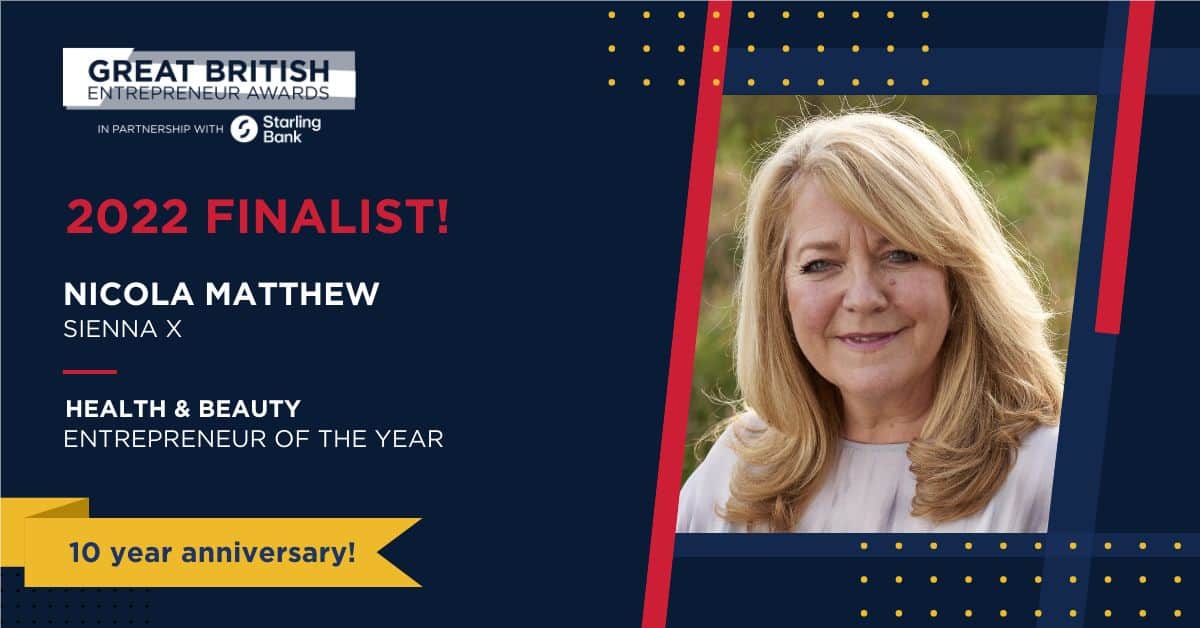 HEALTH AND BEAUTY ENTREPRENEUR OF THE YEAR
2022 FINALIST
Sienna X founder, Nicky Matthews, was a finalist in the 2022 Great British Entrepreneur Awards, an honor recognising her dedication, innovation, and leadership in the beauty industry. Learn more about her journey from inventing a pop-up spray tan cubicle to transforming Sienna X into one of UKs most trusted beauty brand.
---
"We want women to look and feel their best and in the most natural way possible."
— Nicola Matthews
---
Q&A with Nicky
Early inspiration and the birth of sienna X
Could you tell us about your initial interest in the
beauty industry?
Before I became the founder of this fabulous beauty brand
(OK, I'm a little biased), I started life as an air hostess with British
Airways. Whilst I absolutely loved exploring the world and meeting lots of
interesting people, after having two gorgeous children, I realised that I
needed something a lot more flexible as a career choice, which is when I landed
on Mobile Spray Tanning.
I got to meet lots of lovely clients whilst being able to
fit it around school hours. But the real fun started when I set out to find a
cost-effective solution to where I could spray tan my clients – the infamous
(now patented) mobile spray tan booth…
What was the inspiration behind the pop-up spray tan
cubicle?
The inspiration for the pop-up spray tan cubicle was born
out of the need for a cost-effective tanning solution. As I watched my children
playing with a toy tent, I was struck with an innovative idea. It was from this
moment that the concept of the pop-up spray tan cubicle was born.
Would you like to share the story of Sienna X's origin?
As the demand for more products and services grew, the
concept of Sienna X started taking shape. From starting as just a spray tanning
cubicle, Sienna X has grown significantly over the past 19 years, thanks to the
support of our incredible team and customers. Today, Sienna X has transformed
the lives of over 28,000 individuals through the power of beauty. And with our forever growing retail range, we help empower our customers with beauty from their own homes.
---
staying current and ongoing learning
What is the importance of continuous education in the beauty
industry, and how does Sienna X support this?
Education is key in the beauty industry, and at Sienna X,
we are committed to promoting this value through our expert training academy.
We offer a multi-level training program on spray tanning techniques and the
selling of our retail range, which perfectly complements a spray tan treatment.
How do you keep up with the latest trends and techniques
in the industry?
Keeping up with industry trends is vital for any growing
company. We take this into account in the creation and development of our
products, always ensuring they match the highest industry standards.
---
challenges and balance
What are some of the challenges you've faced in your career
and how have you tackled them?
One of the challenges I've faced is the difficulty of
switching off from work. But I love the challenge, and I am fortunate to work
with a team of experts who are passionate about their work at Sienna X and the
beauty space.
How do you maintain a balance between staying true to
your brand and adapting to industry changes?
At Sienna X, we strive to ensure everyone looks and feels
their best in the most natural way possible. This principle is deeply embedded
in our operations and the advice we offer. Our products are natural, vegan, and
cruelty-free. We remain ethical in all that we do, and this is our way of
staying true to our brand values while keeping up with industry trends.
---
memorable moments
Can you share a memorable moment from your career that significantly impacted you?
Each time we have the opportunity to provide spray tans for an event or show, it always feels special. A few standout instances include being involved in the James Bond movie "Skyfall", where we had the chance to tan some of the actors. We've also had the honour of being the official tanner for the Brit Awards multiple times, which was an exciting experience filled with talented artists.
However, one of the most heart warming experiences was when we were the official tanner for Strictly Come Dancing. This was particularly special as my mother was a big fan of the show, and being able to provide her with tickets to see the celebrity guests performing in Sienna X tan was a truly cherished moment.